Home | Conditions of sale, and orders



Return to main Special Features page
ILAB / LILA Rock 2004
or, Journal of a Voyage to the Antipodes
A Pseudo-Memoir, by Wilfrid de Freitas
President, ABAC
Photos by Susan Ravdin
---
Tuesday, October 5.

Depart Montreal for Vancouver; excellent flight on Air Canada, which lulls us into a false sense of relaxation since we have no idea yet of what's to come. At Montreal our bags were checked through to Sydney and we, naïvely perhaps, thought that this meant that the next time we saw them would be in Australia. Not so. At Vancouver we had to reclaim them and clear US customs - despite the fact that we wouldn't be seeing them again until Australia; oh well... they say jump and you just say "how high"!

We've taken advantage of our three hour layover to ask some Vancouver friends to meet us at the airport for a drink, so the time passes pleasantly. Then we have the six hour flight to Honolulu, where we must deplane with all our carry-on bags for a 90 minute (presumably) fuelling stop, before the marathon 10 hour flight to Sydney.

Vancouver Airport's jade canoe
---
Thursday, October 7.
"What about Wednesday?" one might ask. Indeed; we're still trying to figure out where it 'went'. Suffice it to say that somewhere between our departure from Vancouver and arrival in Sydney, it simply did not exist (more about this later). Sydney airport is huge, with several terminals and, of course, we arrive at one and have to transefer to another for the shuttle flight to Melbourne. Interestingly, Australia has very strictly enforced laws against the importation of certain food, plants, etc., and there are clearly posted signs to this effect with the slogan "If in doubt, bin it" right next to large trash cans. We're bringing in books for some customers, so of course we declare them and pay the 10% GST (note: in Canada it's 7%).

The gruelling transfer to terminal 2 via the subway is just that, gruelling. (Tip for others: if you're ever flying to Melbourne, avoid using Sydney as your entry point and go straight into Melbourne). The attendant at the Virgin Airlines gate prefixes every announcement with "Ladies and Gentlemen, Boys and Girls..." presumably in an attempt at humour, but its implied condescension only serves to irritate us; just for good measure, this is repeated by the flight attendants as well. The shuttle to Melbourne is similar to, say, Montreal-Toronto i.e. completely boring, without so much as a drink or snack which, I hasten to add, are available at inflated prices (e.g. water AU$3; peanuts $2).



Melbourne's Skyline
Looking across the Yarra River at Federation Square
We arrive in Melbourne, take the shuttle-bus into town and walk the three blocks to the short-stay apartments recommended by the Congress organizers. The journey, door-to-door, has taken us 32 hours and we're bushed, but relief still eludes us because it's now only 11:30 a.m. and check-in time isn't until 2 p.m. Fortunately, by now we've gotten our second wind, despite only about 5 hours' sleep the entire journey. So we leave our bags at the front desk and head off to Kay Craddock's shop in central Melbourne.

Kay is the past president of ILAB and has kindly offered her shop as a meeting venue for anyone who wants to know who's in town and where things are. It's a superbly appointed shop right on Collins Street, the main commercial artery in the city. Of course we immediately start browsing and we're soon joined by a few other colleagues. We return to our apartment for a 'powernap', as the Aussies call it, before returning to Kay's shop for the launching of the new Patrick White bibliography by Brian Hubber and Vivian Smith, both of whom are present for the occasion. Then we grab a bite to eat and head back for a good night's rest - at last!
---
Friday, October 8.
The Presidents' workshop starts at 1:30 p.m. and fourteen (of twenty) presidents are in attendance, a pretty good turnout considering the expense and time away from one's business. We each receive our Congress briefcase containing, among other goodies, a packet of - and I wonder how many people noticed - ILAB Rock. This is a peculiarly British type of sweet (or candy) usually in the form of a one inch diameter cylinder about ten inches long. Throughout its length have been cleverly laid the letters "ILAB/LILA ANZAAB", so that wherever the the cylinder is broken (or in this case sliced) these letters are always visible. You've probably heard of Brighton Rock; well, this is ILAB/LILA Rock! Discussion topics are wide ranging and we're all free to speak our minds and express our members' concerns. This is a preamble to next week's more formal Presidents' Meeting at which we'll vote on motions and make decisions concerning ILAB's work for the year to come.


This evening is the formal opening of the Congress with a cocktail reception and dinner at the National Gallery of Victoria; the dining 'table', if it may be so called, is 93 feet from end to end and we have our first experience of the (I'm told) older style of Australian dining where two different entrées and two different main courses are served alternately to the diners, so that one person receives fish and the next meat. Of course this doesn't suit many people and there's a lot of swapping of plates. We're given a traditional aboriginal welcome from a gracious older lady, followed by some mercifully short speeches from our colleagues, then we tuck in. There's an inordinately long interval between courses but the wine (Australian, of course) flows freely and some people get up and wander over to chat to other colleagues. Dessert follows the same alternating pattern but by now we get the drift of things and accept what's placed before us. A pleasant evening.

Melbourne at night, with Casino in foreground
From the Rialto Towers observation deck
---
Saturday, October 9.
The whole of today is given over to a Book Trade Symposium, held in the quaintly named Village Roadshow Theatrette, which is actually a small first class theatre in the State Library of Victoria. Professor Wallace Kirsop gives a fascinating talk on Nineteenth Century Book Auctions in Melbourne. He's gleaned much of his information from newspaper advertisements for auctions which might be for, say, "The library of a Gentleman Proceeding to England" or, simply, a general auction which mentions books.

Next, Kenneth Hince, the doyen of the Australian antiquarian book trade, reminisces about his early days in the business, with particular reference to his first two buying trips to England in the early sixties when private libraries were coming on to the market quite regularly and mostly through dealers' hands. Compare this with today when when such libraries do come to the market, it's almost always through the auction houses.

Then there's a Book Trade Panel discussion, with Philip Fraher and Nicholas Dawes, both Melbourne booksellers, and Ken Lopez from the USA. Of course, the pros (fewer) and cons (more) of the internet provide much fuel for the fire and opinions are vigorously, nay heatedly, expressed. [If I may interject a personal note here: like it or not, the internet is here to stay and will continue to affect our 'traditional' (whatever that might mean) way of doing business. So we might as well use it to our advantage and stop whingeing about how it's going to destroy our businesses].

After lunch, Des Cowley of the State Library tells us about the founding and early days of Melbourne Public Library, the forerunner of today's State Library. He's followed, after tea, by Roger Stoddard, who's about to retire at the end of this year after forty years at the Houghton Library at Harvard University. He regales us with tales of dealings with booksellers all over the world and tells us he is grateful for all the friendships he's made with them in the course of his career.
---
Sunday, October 10.

Our first day off! We pile into motorcoaches for a 100 km. trip to the Ballarat Wildlife Park where we have our photos taken as we pet koalas, and see the deadliest snakes in the world and the most poisonous. This is a distinction I'd not considered: deadly snakes are those which have a record of killing humans; poisonous snakes are those the toxicity of whose venom is measured in their capacity to kill mice. If I recall correctly, the most poisonous (I forget just how much quantity, but it's a tiny amount) can kill around half a million mice! We were promised a crocodile display - whatever that might be - but were disappointed (well I was anyway) only to see them lounging around in their pools. Tasmanian Devils, emus, wallabies and, of course, kangaroos abound (pun intended!) and one particularly amourous emu (we were reliably informed by the park's owner) was spotted making advances towards one of the ILAB committee members: for a small, no, make that a large, fee his name will be supplied!

Petting a koala at
the Ballarat Wildlife Park
Then we're off to Sovereign Hill in Ballarat, where the gold rush of 1851 started. At first the reconstructed main street reminds one of those fake American western towns for kids, but on closer inspection the attention to detail is quite remarkable. The townspeople are all dressed in period costume and the shops will sell you all manner of period souvenirs. One can pan for gold (they put AU$12,000 worth of gold into the stream every year, but the man in charge wouldn't tell me when!) and even see a 100 ounce gold bar being poured and formed; fascinating! Some of our party get into the spirit of things and no doubt we'll be seeing some Aussie hats being sported at the Boston Book Fair in November. An Australian barbecue is next on the agenda; nothing special but welcome after a hard day's sightseeing. As dusk draws on, we're whisked off to an elaborate son-et-lumière presentation "Blood on the Southern Cross" recounting the dramatic and deadly 1854 Eureka Rebellion on the Ballarat goldfields when the miners were protesting the expensive licences required by the government.


Helen and Fred Kahn at the barbecue
with international colleagues.
---
Monday, October 11.
The formal Presidents' Meeting occupies the entire day. There's a packed agenda, but ILAB president Bob Fleck keeps us on course and we get through all the items by 5 p.m. Representing the ABAC (after only three weeks as President), I make a short presentation on the Presidents' Meeting in Montreal in September 2005, and distribute an information package to each president. One of the enormous benefits of attending the Congress is the opportunity of meeting one's colleagues face to face. No doubt our Secretary, Steven Temple, will circulate full minutes of the meeting in due course.
---

The Old Melbourne Gaol's whipping horse
It's much grislier looking up[ close!

Tuesday, October 12.

This morning is the ILAB open meeting held at the State Library at which Bob Fleck reports on the various activities of the past year: these include the ILAB Website event in May and the ongoing development of the stolen book database. He also announces that the ILAB membership cards, previously discussed and agreed upon, are now ready and those present at the meeting receive theirs. John Spencer of the ABAA makes a short presentation regarding the next ILAB Congress and bookfair, to be held in Philadelphia and New York respectively, in September 2006.

Then for some it's off to the Yarra Valley for a wine tour, but we elect to do some sightseeing and start with the Old Melbourne Gaol which is right around the corner. Here we see how the convicts were 'housed', if that's the appropriate word, and there's a grisly reconstruction of Ned Kelly's hanging. On the same floor is the actual whipping horse to which men were shackled, complete with the six-inch wide solid leather kidney-belt (to prevent damage to the kidneys), and cat o'nine tails and birch whips...ugh. The Victoria Market provides a welcome relief, offering as it does an almost endless variety of comestible and non-comestible wares: this is where many of the citizens do their shopping, so we join in! Downtown Melbourne is compact, so one can walk almost everywhere, or take the tram which cris-crosses the city and travels out to the suburbs as well.
---
Wednesday, October 13.

Officially the last day of the Congress, and there are library tours of the University of Melbourne, the State Library of Victoria, and Monash University. However, rather than being tempted by treasures completely outside our reach, we decide to hit the bookshops in Prahran, a suburb of Melbourne. Of course, this is the first day we have rain but what the hell, it's appropriate for browsing and we find a few nice things (well, we think they're nice anyway!). We take a completely different tram route back into the city and inevitably meet up with Bob and Millie Fleck from Delaware and Robin Fryde from Johannesburg, who've been doing the same as we have.

This evening is the closing banquet in the mansion at Rippon Lea estate, originally built in 1868 but with twentieth century additions. Unfortunately it's still raining so we aren't able to enjoy the grounds, but they've laid on a canopy outside so we can still enjoy our drinks alfresco. Strangely, there's a sense of déjà-vu as the meal is served; in fact they're exactly the same entrées and main courses as we had at the opening banquet so we all know how to deal with the alternating dishes, and the usual plate-swapping goes on. A few brief speeches are made, with well deserved compliments to Barbara Hince and her team who've organized the Congress. Then Ulrich Hobbeling, president of the German Association, unleashes his bombshell announcement and invites all the other association presidents up to the stage to show their appreciation to Barbara by embracing and kissing her! She takes it in good stride (what else can she do!) and there are lots of photographs for posterity. All of a sudden it's 11:30 and many people have early flights on Thursday so we head for the motorcoaches to take us back into town.

Greater Melbourne's tram system, with Central Melbourne inset
Prahran marked with pink arrow
---
Thursday, October 14.
Slept in! Up to now, we've been on a tight schedule so it's nice just to take it easy. The bookshops seem to be grouped in widely separated areas, so we head back to Prahran to Kenneth Hince's and Peter Arnold's shops, then on to Camberwell for two others. It's a long day with slim pickings: I make a note to remind our bookfair customers of this fact when they moan about high prices.
---
Friday, October 15.
The ILAB bookfair starts at 5 p.m. so we decide on some sightseeing during the day and take in the strikingly ornate ANZ banking museum, followed by a tour of the State Parliament, which is modelled on the British system . Then it's time for the bookfair.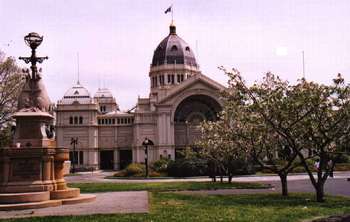 Royal Exhibition Building, Melbourne

There's a long line-up when we arrive at around 4:45 but we soon enter the magnificent Royal Exhibition Building and scoot around the nearly sixty exhibitors. As one would expect, it's a mostly Australian and New Zealand affair but there's a good smattering of adventurous European, British and American dealers, and very high quality merchandise on offer.
---
Saturday, October 16.

We pick up a rental car for the drive up to Sydney. However, our route out of town takes us through many busy streets and I remember that Tony Marshall's Alice's Book Shop is just a small detour away, so we head there. Contrary to what the name implies, he doesn't specialize in Alice in Wonderland or Lewis Carroll, but has a very good general stock in most areas that we like. He's not in when we arrive, but we're made most welcome and, as we browse, Tony arrives - with the news that his car's just been stolen outside the Exhibition Building while he was visiting the book fair. He seems less concerned about the two cartons of copies of his latest book Fossicking For Old Books, humourously saying that he hopes this will increase its circulation!



| | |
| --- | --- |
| | We're now leaving Melbourne much later than we'd planned but it's an interesting drive north with unusual pictorial roadside warning signs for kangaroo, and wallaby, crossings. We'd heard that Kenneth Hince has a bookshop in the tiny town of Euroa, so we take a chance and stop off there but, of course, he's at the bookfair so his shop is closed. We leave him a note and head for Glenrowan, the site of Ned Kelly's last stand against the police. The huge iron effigy of the heavily armed Kelly proclaims the town's claim to fame, with the obligatory museum and souvenir shops. Then we stop for the night. |


Peering up at Kelly statue, Glenrowan
---

Canberra's War Memorial
Looking towards the Hall of Memory

Sunday, October 17.

We continue on to Canberra and the Australian Capital Terrirory, or ACT as it's known, arriving in the mid-afternoon with enough time to get our bearings in daylight and actually do a bit of sightseeing. The embassy suburb of Yarralumla is particularly attractive with each country's embassy and diplomatic residence reflecting its architectural style, heritage and culture.
---
Monday, October 18.

Up early and to the Australian War Memorial, as Pepys might have said. This enormous monument to the country's war dead is probably one of the capital's most popular sights. Among other things, they have brought together fifty-eight of Australia's one hundred and twelve (I think) Victoria Crosses, all in one gallery complete with photographs, citations and the actual VCs... breathtakingly impressive, for me anyway. Then a tour of the Parliament Buildings, interesting if a bit sterile.

Leave for Sydney mid-afternoon and arrive there in the pouring rain, and without a clue as to where our hotel is located. But we soon find it and get settled in for the next three days.

Parliament House, Canberra
---

Sydney Opera House

Tuesday, October 19.

We must return the rental car early so this means we have the whole day to get our bearings. Following our usual plan of action when visiting a city for the first time, we take one of the excellent circular bus tours with a recorded commentary at each stop. One can jump on and off anytime, and we get a good idea of where everything is relative to everything else. The Rocks area is particularly interesting being, as it is, the site of the first settlement by convicts. An obligatory visit to the Sydney Opera House is next, followed by a lot of walking as we discover those aspects of the city which we'd otherwise miss. Dinner this evening with another customer for whom we've brought over some books.
---
Wednesday, October 20.
Today we hit the bookshops. As in Melbourne, these seem to be located in groups and, as luck would have it, our hotel is right in the centre of one. The weather doesn't look good but it's ideal for book scouting. We have to remember that prior to the actual congress in Melbourne, the pre-congress jambouree was here in Sydney so our colleagues have vacuumed up almost every bargain ahead of us. But that doesn't deter us and we still pick up a few tid-bits.
---
Thursday, October 21.

More rain today so we elect to do more indoor activities. The aquarium is an obvious choice, unfortunately not only for us, and it's packed with school children and visitors alike. The shark tank (as I prefer to call it - even though it contains all manner of other fish) is definitely the highlight, as you walk through huge glass tubes and these ten and twelve foot eating machines glide silently all around you. Occasionally, they open their jaws, apparently for exercise, since there's no struggle for survival going on here, and I whisper to Susan "Dah-dum". When questioned about their apparent placidity, one of the staff tells me that it's because the sharks are well enough fed that they don't have to eat their companions in the tank...pity!

Fish in the Great Barrier Reef tank
Sydney Aquarium

Anne (red coat) leads our tour
The Rocks, Sydney
We're ardent fans of the London Walks, and are pleased to find one here for the Rocks. Our guide, Anne, is well versed in the history of the area and brings it alive for us with anecdotes of the early settlers and characters who've left their mark on Sydney. Highly recommended! This is our last day, so we do some souvenir shopping in the majestic Queen Victoria Building with its luxury shops, including, interestingly, a map and print dealer who'd exhibited at the book fair in Melbourne...maybe there's hope for some of us yet!
---
Friday, October 22.
An early start for the gruelling flight home. Since we're leaving directly from Sydney, we're spared the awful terminal change we had en route to Melbourne. Now here's where it gets tricky: beacuse Sydney is 17 hours ahead of Vancouver, we depart at 10 a.m. local time today, Friday, and arrive Vancouver at 10 a.m. today, Friday, after some 17 hours in the air... so that's where Wednesday, October 6 'went'! Oh well, easy come, easy go! Owing to an early arrival in Vancouver, we get lucky and make a quicker than planned connection for our flight to Montreal, saving us three hours. We arrive home exhausted but elated, after only 26 hours en route - remember, it was 32 on the way out! But we're still not out of the woods,because Sydney is 14 hours ahead of Montreal and it takes us the best part of a week for our body clocks to get back on schedule.

Exhausting? Brutally. Worth the trouble? Definitely!


---
Return to main Special Features page
---
Home | Conditions of sale, and orders
---
Wilfrid M. de Freitas - Bookseller
P.O. Box 232, Westmount Station
Westmount (Montreal), Quebec, Canada H3Z 2T2
Tel: (514) 935-9581
E-mail: Wilfrid@deFreitasBooks.com

Last updated: 10/05/17
Site maintained by Susan Ravdin