Home | Conditions of sale, and orders

Prints from Buck's Antiquities
Main Buck's Antiquities page | Samuel and Nathaniel Buck
The Midlands
The North | East Anglia and the South East
The South West | Wales
The images on this page are all of ancient buildings and ruins in the Midlands of England, extending across the centre of the country from Shropshire and Herefordshire to Lincolnshire. For ease of browsing - and hunting for your favourite - they are arranged county-by-county. Those marked "Buck" are from the first issue of 1725-42 printed by the Buck brothers; those marked "Sayers" are from the second issue of the 1770s as printed for and sold by Sayers.

Each of the scans are from the Sayers print (unless only the Buck is available), but whether from Buck or Sayers, they are reduced versions for reference purposes. The original sheets are about 19" x 11½", with image sizes approximately 14½" x 7½". Click on the image to bring up a larger view, and contact us at wilfrid@defreitasbooks.com if you need to see full-sized scans or more detailed condition information.

Remember these are "stitched scans", that is to say overlapping partial scans, so you may notice mis-matches especially along the edges of the images and light uneven shading overall; these are only in the scans, not in the original prints! Most of the originals are in crisp clean condition, with no folds or creases (unless specifically noted); condition details provided on request. If in doubt, unstitched but lower resolution photographs can be sent to you.

NB.#1 These were scanned over a long period, with several scanners: as a result some show more margins than others though, unless otherwise noted (only a couple of cases), all have roughly the same width borders; some also appear brighter and/or with browner ink than others.
NB.#2 Most of the colour images were prepared from photographs and, as a result, show shadows and/or more intense colouration.



Un-matted, as these are, we offer them at
$60 (Buck) / $35 (Sayers) each for the black and white,
$75 (Buck) / $50 (Sayers) each for the hand-coloured
(unless otherwise priced below the image).
---
Click on an image to bring up a larger version in a separate window
The Midlands
Herefordshire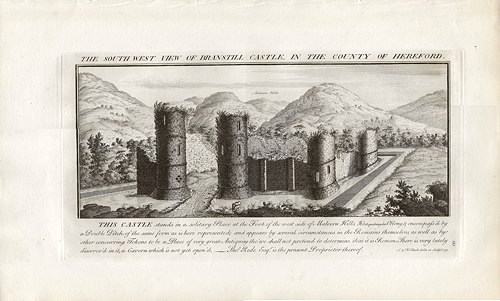 "The South West View of Branstill Castle, in the County of Hereford"
[i.e. Bronsil Castle]
Buck and Sayers available
---
Leicestershire


"The East View of Belvoir Castle, in the County of Leicester"
Sayers available
---


"The South View of Belvoir Castle, in the County of Leicester"
Sayers available
---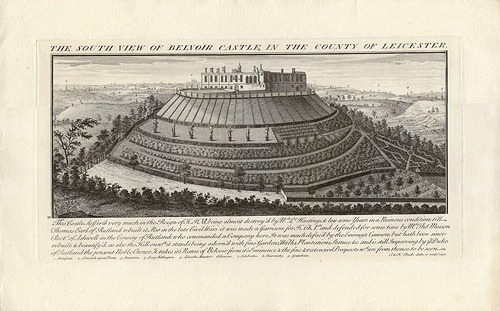 "The South View of Belvoir Castle, in the County of Leicester"
Buck available
---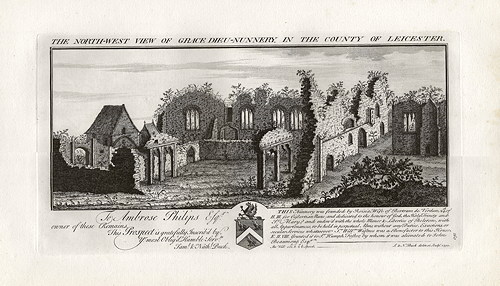 "The North-West View of Grace Dieu-Nunnery, in the County of Leicester"
Sayers available
---


"The South-West View of Olveston-Priory, in the County of Leicester"
[i.e. Oweston Abbey or Osulveston Priory]
Sayers available
---
Lincolnshire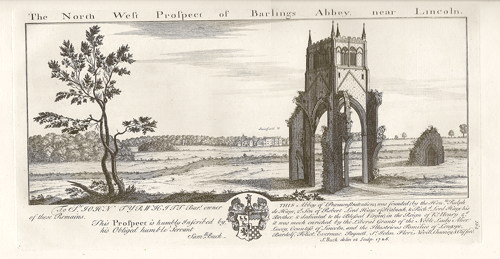 "The North West Prospect of Barlings Abbey, near Lincoln"
Sayers available
---


"The South West View of Croyland Abbey near Spalding, in the County of Lincoln"
[i.e. Crowland Abbey]
Printed with image tilted slightly
Sayers available
---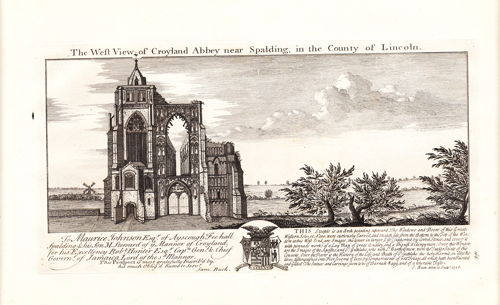 "The West View of Croyland Abbey near Spalding, in the County of Lincoln"
[i.e. Crowland Abbey]
Printed with image tilted slightly
Sayers available
---


"The East Prospect of John of Gaunt's, below the Hill in Lincoln"
[i.e. John of Gaunt's Palace]
Buck available
---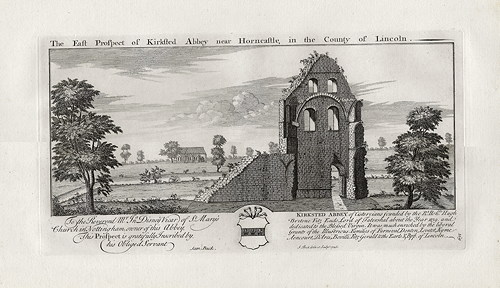 "The East Prospect of Kirksted Abbey near Horncastle, in the County of Lincoln"
[i.e. Kirkstead Abbey]
Printed with image tilted slightly
Sayers available
---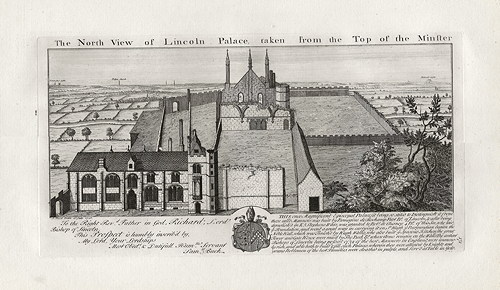 "The North View of Lincoln Palace, taken from the Top of the Minster"
Printed with image tilted slightly
Sayers available
---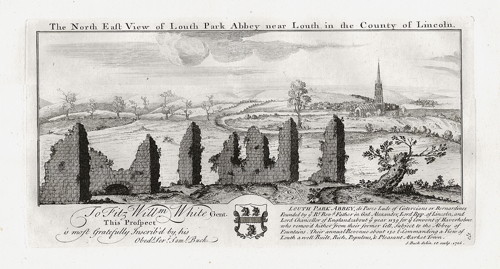 "The North East View of Louth Park Abbey near Louth, in the County of Lincoln"
Sayers available
---


"Moor — Tower, on Tower — Moor, near Horncastle, in the County of Lincoln"
[i.e. Tower-on-the-Moor]
Sayers available
---


"The West Prospect of Scrivelby Hall near Horncastle, in the County of Lincoln"
[i.e. Scrivelsby Court]
Light corner fold
Sayers available
---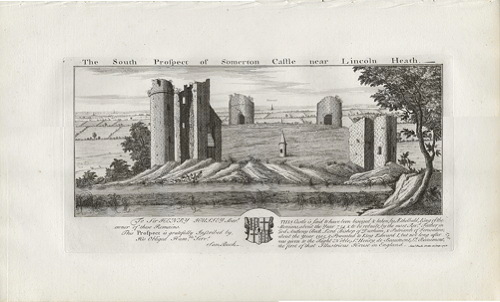 "The South Prospect of Somerton Castle near Lincoln Heath"
Buck and Sayers available
---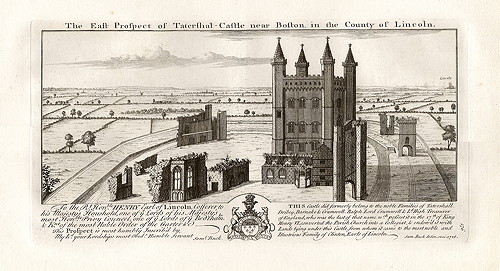 "The East Prospect of Tatershal - Castle near Boston, in the County of Lincoln"
[i.e. Tattershall Castle]
Sayers available
---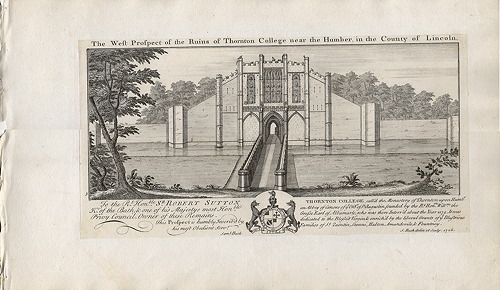 "The West Prospect of the Ruins of Thornton College near the Humber, in the County of Lincoln"
[i.e. Thornton Abbey]
Printed with image tilted slightly
Buck available
---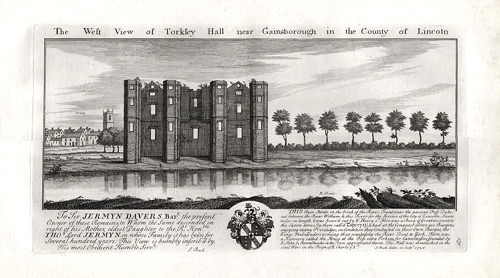 "The West View of Torksey Hall near Gainsborough in the County of Lincoln"
[i.e. Torksey Castle]
Buck and Sayers available
---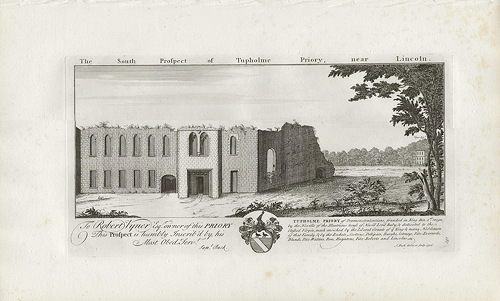 "The South Prospect of Tupholme Priory, near Lincoln"
Sayers available
---
Northamptonshire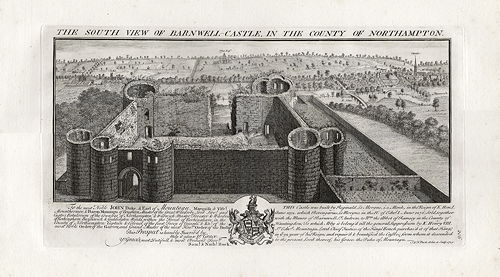 "The South View of Barnwell-Castle, in the County of Northampton"
Sayers available
---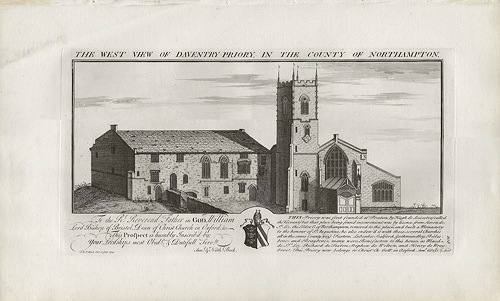 "The West View of Daventry-Priory, in the County of Northampton"
Sayers available
---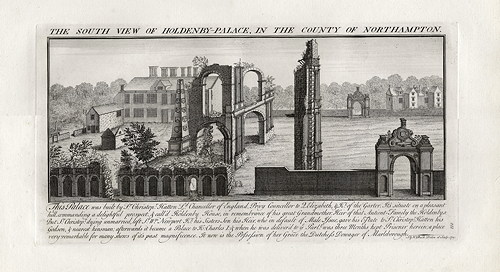 "The South View of Holdenby-Palace, in the County of Northampton"
[i.e. Holdenby House]
Sayers available
---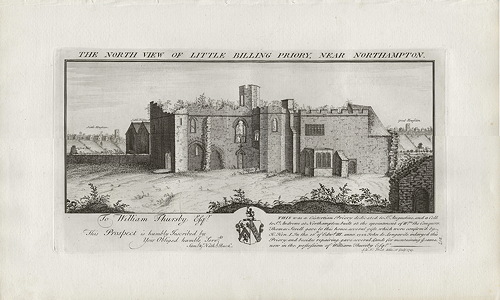 "The North View of Little Billing Priory, in the County of Northampton"
[i.e. Little Billing Manor House]
Sayers available
---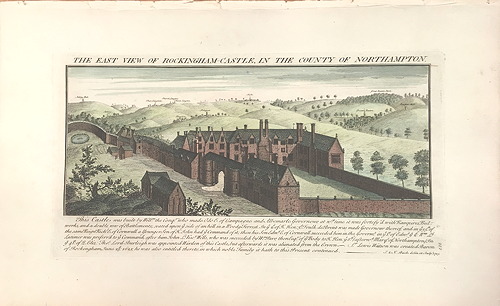 "The East View of Rockingham-Castle, in the County of Northampton"
Sayers available
---
Nottinghamshire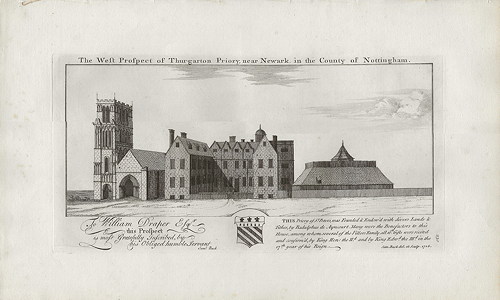 "The West Prospect of Thurgarton Priory, near Newark, in the County of Nottingham"
Sayers available
---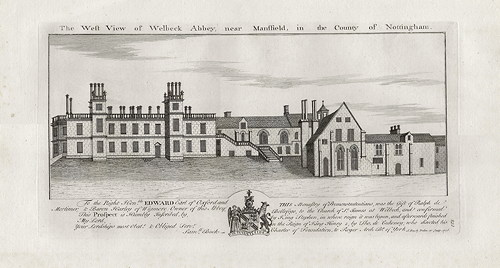 "The West View of Welbeck Abbey, near Mansfield, in the County of Nottingham"
Sayers available
---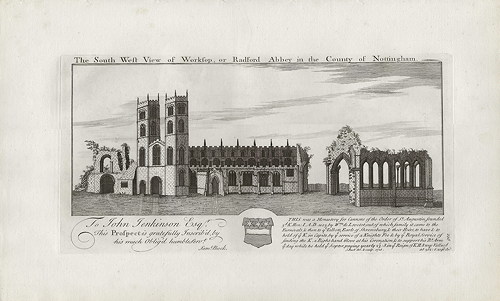 "The South West View of Worksop, or Radford Abbey in the County of Nottingham"
Sayers available
---
Rutland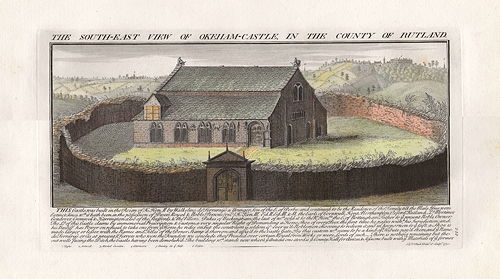 "The South-East View of Okeham-Castle , in the County of Rutland"
[i.e. Oakham Castle]
Sayers available
---
Shropshire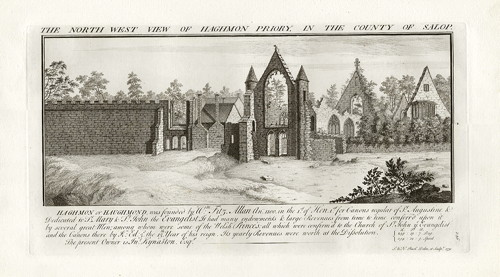 "The North West View of Haghmon Priory, in the County of Salop"
[i.e. Haughmon Abbey]
Sayers available
---


"The East View of Halesowen Abby, in the County of Salop"
Sayers available
---


"The East View of Hopton Castle, in the County of Salop"
Sayers available
---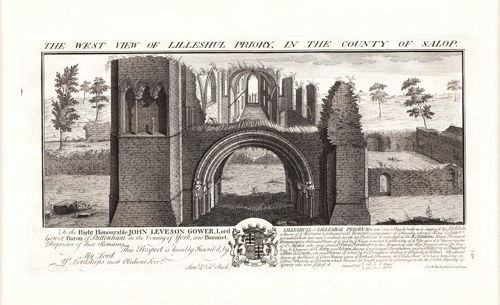 "The West View of Lilleshul Priory, in the County of Salop"
[i.e. Lilleshall Abbey]
Sayers available
---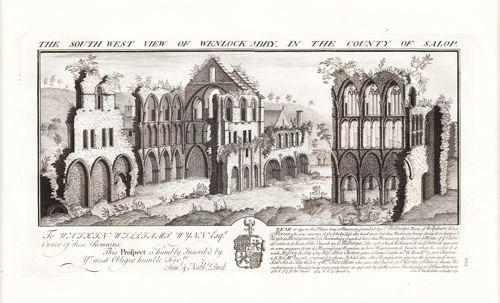 "The South West View of Wenlock Abby, in the County of Salop"
Sayers available
---
Staffordshire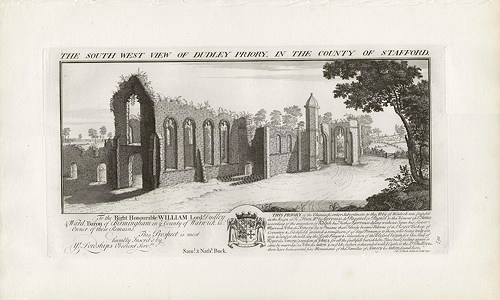 "The South West View of Dudley Priory, in the County of Stafford"
Sayers available
---
Warwickshire


"The South View of Combe-Abby, in the County of Warwick"
[i.e. Coombe or Cumbe Abbey]
Buck available
---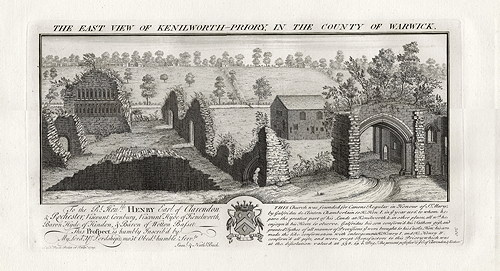 "The East View of Kenilworth-Priory, in the County of Warwick"
[i.e. St. Mary's Priory]
Buck and Sayers available
---


"The East View of Kenilworth-Castle, in the County of Warwick"
Sayers available
---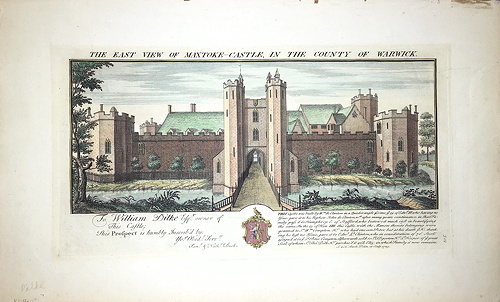 "The East View of Maxtoke-Castle, in the County of Warwick"
[i.e. Maxstoke Castle]
Repaired margin tears, one into image — $20
Sayers available
---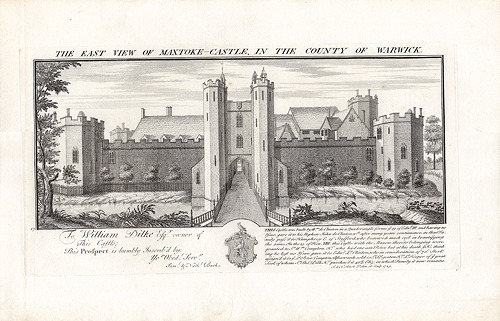 "The East View of Maxtoke-Castle, in the County of Warwick"
[i.e. Maxstoke Castle]
Buck available
---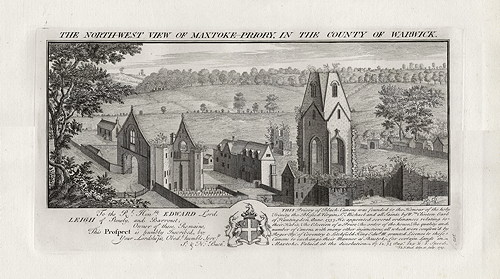 "The North-West View of Maxtoke-Priory, in the County of Warwick"
[i.e. Maxstoke Priory]
Buck and Sayers available
---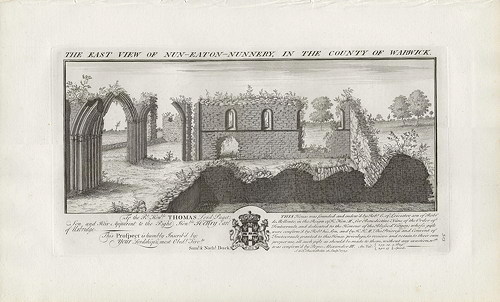 "The East View of Nun-Eaton-Nunnery, in the County of Warwick"
[i.e. Nuneaton Priory]
Buck and Sayers available
---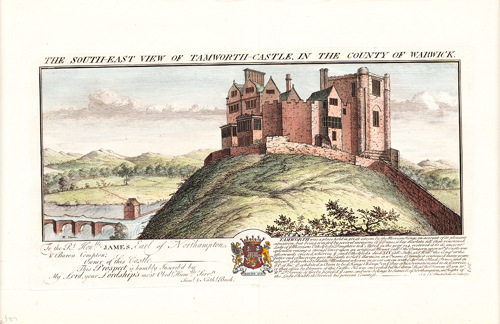 "The South-East View of Tamworth-Castle, in the County of Warwick"
Sayers available
---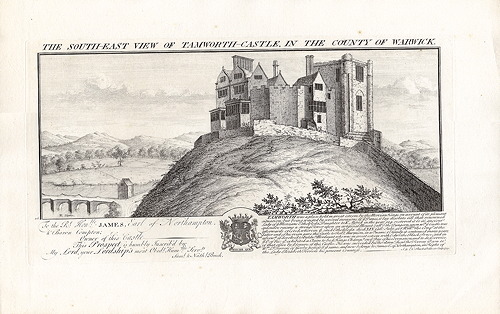 "The South-East View of Tamworth-Castle, in the County of Warwick"
Buck available
---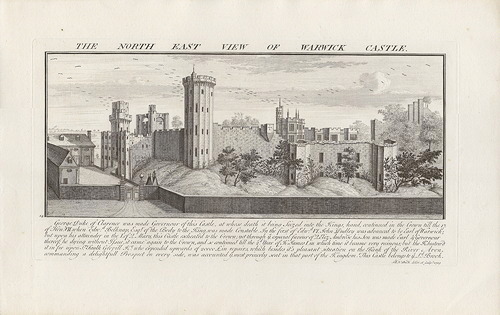 "The North East View of Warwick Castle"
Buck available
---
Worcestershire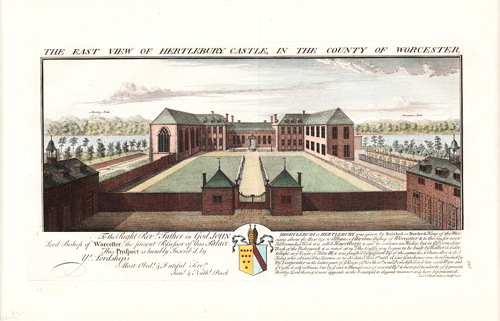 "The East View of Hertlebury Castle, in the County of Worcester"
[i.e. Hartlebury Castle]
Sayers available
---
Main Buck's Antiquities page | Samuel and Nathaniel Buck
---
The North | East Anglia and the South East
The South West | Wales
---
Home | Conditions of sale, and orders
---
---
Wilfrid M. de Freitas - Bookseller
P.O. Box 232, Westmount Station
Westmount (Montreal), Quebec, Canada H3Z 2T2


Last updated: 3/31/23
Site maintained by Susan Ravdin